holy shnikees!  three posts in one day?  what's gotten into me?!?  haha...well, i was perusing some of my favorite design and fashion blogs as i was winding down for the evening, and i came across so many lovely things that i simply could not pass up sharing a few of them.  so, with that said, here's a little fashion inspiration to get those creative wardrobe juices flowing...happy drooling!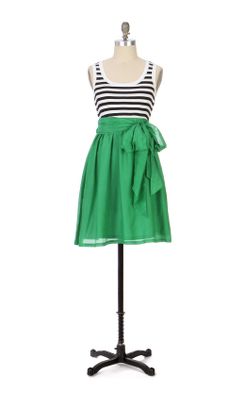 oh my dear goodness, i must have 
this dress
.  it's a bit out of my price range, but it's totally worth saving up for!
this little 
gem
 is such an adorable outfit!  and i looooove the colors!
ahhhh,
these shoes
...they have been on my etsy favorites list for what seems like forever!
i have lusted after this necklace since i first laid eyes on it...and low and behold, the fashion blog, 
dedicated
, was giving it away to one lucky reader!  guess who won it?  (hint:  me!)  thank you mister random number generator!  because of you, this beauty is on it's way to me!
this little piece is so incredibly unique.  it's from the etsy seller,
white owl
.  all of their jewelry is made from reclaimed materials.  i love the juxtaposition of the hard metals and soft antique crochet work.  a lovely decoration for your décolletage :]
there were many many more that i wanted to share, but i think i'm going to just call it a night instead.  gotta save some thing for future posts, right?  hope everyone has a wonderful evening and i'll see you all soon for 52 project and upcoming photobooth friday!  yay!
sweet dreams of sugary things 
lovelove